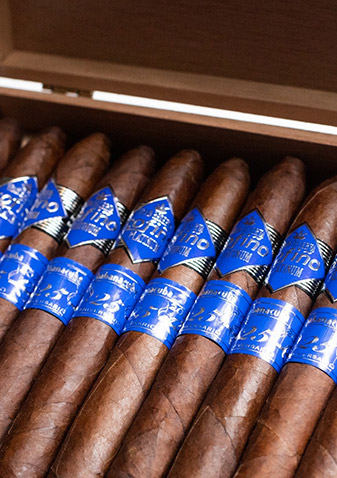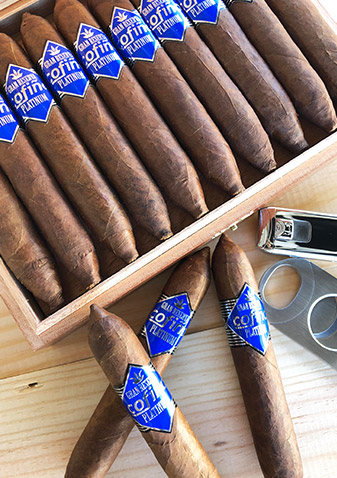 Cofiño Platinum
Cofiño Gran Reserva Platinum cigars are made with specially selected aged tobacco. The combination of aromas and intensity of flavors of cacao, cinnamon and nuts combined with a peppery touch on this smoke are given by a well balanced blend of premium aged tobacco from Dominican Rep., Nicaragua, Honduras and Mexico.
ROBUSTO 5 x 50
This slightly pressed cigar show its notes of cocoa and coffee bean character with a sweet of dark toffee and cedary finish. A cigar for a mid-morning smoke.
FIGURADO 5-3/4 x 52
A beautiful boxpressed figurado with an elegant look, toasted almonds and notes of expresso coffee all the way from start to finish. Perfect for after lunch smoke.
TORO 6 X 54
This powerfull cigar is slightly pressed, rich on notes of hazelnut and toasted cocoa that develops in a salted caramel finish. A great golf cigar or for after dinner enjoyment.
TORPEDO 6-1/8 x 52
A handsome boxpressed torpedo, elegantly shaped with great finesse, starts with hints of earthy and oaky notes that develops in a dark chocolate with a licorice long finish.
25 ANNIVERSARY
A special limited edition shapely salomon, made for the 25th. Anniversary celebration event of our store Habanacuba Cigars. An amazing fully equipped cigar.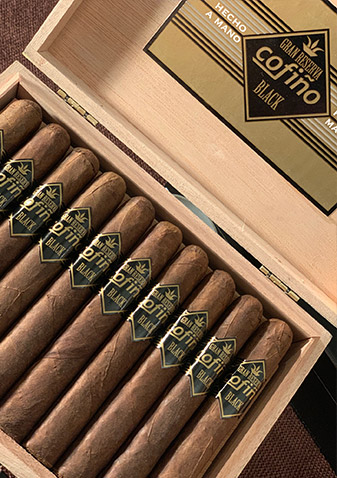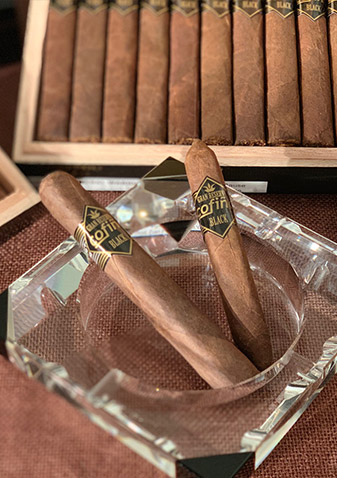 Cofiño Gran Reserva Black
A cigar for the connoisseur smoker. With notes of cocoa powder and toasted coffee beans.
ROBUSTO 5 x 50
This robusto is full with notes of earth and charcoal, some licorice too, and light vanilla sweetness at the end. A cigar to start the day.
FIGURADO 5-3/4 x 52
A beautiful boxpress figurado that gives you notes of chocolate, nougat and a touch of coffee beans. Perfect for an afternoon smoke.
TORO 6 X 54
This powerhouse with notes of earth, sweet dates and spices, this is a cigar for the connoisseur smoker.
TORPEDO 6-1/8 x 52
Created for the most demanding aficionado. A torpedo with some hickory flavor and coffee bean notes, a touch of sweetness on the palate.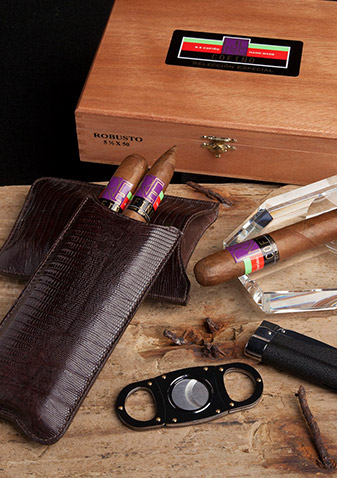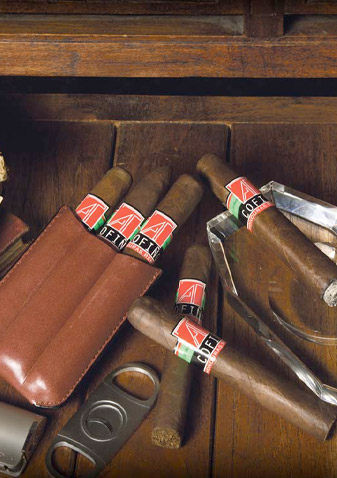 RE Cofiño
A magnificent cigar full in flavor, yet medium in strength, carefully handcrafted in the Dominican Republic.
CORONA 4-1/2 x 45
This cigar puts together the flavor and aromas as it's bigger brothers but in a smaller size that results in an unforgettable smoking experience truly worthy of it's size.
ROBUSTO 5-1/2 x 50
This robusto bears a combination of aromas that stands out as a complex and flavorful smoke on the milder side with bountiful taste notes of coffee and leather with an easy draw.
TORO 6 x 52
A magnificent toro with impeccable construction and a silky, golden wrapper that burns beautifully, a marvelously sweet aroma, and a creamy finish, a true star.
TORPEDO 6-1/4 x 52
Made with the traditional Cuban torpedo shape, this cigar burns beautifully with a marvelously sweet aroma and peppery notes with lots of smoke and great draw.